It seems to be interesting when some businesses complement others that branch out from similar services. Similar is the case of reseller hosting, which offers a business opportunity as compared to hosting itself. Resellers, similar to the local mobile and cable network providers, set up a contract with web hosting providers for buying hosting plans to resell. It requires minimal capital and resources and thus, anyone can easily start this business.
A reseller and a retailer stand at the same position, if you look from the 'demand and supply' perspective. Resellers act as intermediaries between the main provider and the consumer. They buy the resources in bulk from the provider and offer services to the consumer. There are several benefits offered by this business model. At first, it promotes a stable supply chain from the provider's end. Then, it provides a way to earn commission for the intermediary. Also, consumers can get optimum hosting facilities at affordable rates, if you consider that the initial orders come in bulk at wholesale rates.
Reseller plans include all kinds of hosting plans. Bigger organizations that are looking for cost-efficient hosting may purchase dedicated servers from these platforms. Cost effectiveness plays a key role in attracting consumers towards this business. There is an increase in systems integrators as they offer innumerable benefits of cloud hosting by interacting with multiple vendors or a single, reputable source. However, being a secondary provider you may assume partial or complete management of resources, depending on your expertise. In off-site facilities you get the set up and control along with redirecting ticket-resolving issues by the main provider. If there are clients that want to cut costs on otherwise expensive plans, reselling sources for purchase would be best for them.
There are very few primary providers available in the market. You can purchase reselling packages online and these may be different based on the resources available to manage the servers. Reseller clients will get innumerable facilities such as unlimited websites, unlimited email accounts, an established database management system, website builder, operating system choice, and much more. These packages also offer cPanel access for account holders that purchase from the reselling services. It means even business clients will have the ability to configure options as per their preference.
By reselling, you get guaranteed profit only if the reseller implements excellent marketing strategies. Similar to other businesses, the success of this business too depends on brand marketing by the reseller. So, it is important to consider marketing services with the help of valuable strategies for meeting the decided goals. Business growth can be achieved only when the services are made to look promising. If you being a reseller don't promote your brand, you may not receive the recognition required to grow and flourish. If you target sky for your growth, invest both mind and money to reach there. Define your goals before you start the hosting business. Ensure that your requirements are available at first, before you set out to fulfill the needs of others.
There are plenty of web hosts in the market that sell reseller hosting solutions. But you can check the review of the best web hosting provider of Australia that provides many perks to a reseller as well as his clients.
MilesWeb at a Glance
MilesWeb is one of the best web hosting providers that serves over 20,000 customers today. Established in 2012, they have won several awards for their performance, reliability, customer support and security. They offer different web hosting plans such as shared hosting, dedicated hosting, reseller hosting, VPS hosting, WordPress hosting, cloud hosting and applications hosting.
They ensure that you get to enjoy the latest technology on the server by keeping the server software updated. Moreover, they enable you to focus on your business rather than looking after the server management and maintenance.
You get 24/7 support from them via email and live chat to resolve any queries you face with reseller hosting.  Also, the 30 day money back feature allows you to ask for the refund if you aren't satisfied with their service. But you can claim for the refund only within first 30 days of service purchase.
Features
Free Migration: You might think that migration is a tough task. But if you want to migrate to MilesWeb, they will make it extremely easy for you. They will migrate your website from your current web host to their servers with complete data security for free. Also, migration can be done at your convenient time.
Free SSL Certificate: Security is the major concern for all online businesses and so, SSL certificates are compulsorily installed on all the websites hosted on their servers. Apart from security, SSL boosts your ranking in Google and also builds trust among your visitors.
Host Unlimited Websites: You don't have limit on the number of websites you can host. They enable you to host as many websites as you want to on your reseller account.
100% White Labeled: Worried if your clients would know that you are reseller? MilesWeb allows you to sell the web hosting plans with your own brand name. They won't display their brand on any of the packages or cPanel.
100% SSD Storage: Online businesses need to offer faster websites and so, they provide SSDs on their servers to store the data faster and boost your website's performance. You get 200% improve performance as compared to the HDD drives with SSDs.
Web Host Manager (WHM): You can monitor and control your client accounts with the administrative access offered by this tool. You can create and manage multiple cPanel accounts with unlimited websites, emails, databases, etc. with WHM.
cPanel Control Panel: Website management is made easy with cPanel. It enables you and your clients to manage domains, websites and emails from this intuitive interface. Moreover, you can check the bandwidth and disk space usage, and get the rights to suspend, terminate or unsuspend your clients' accounts.
One-Click Installer: Apps can be installed in just a click as per your choice. You can select one from over 400 applications and can install it in just few seconds. Applications such as Joomla, WordPress, Drupal, etc can be installed easily.
Free Website Builder: You as well as your clients can enjoy creating the website on your own with the free site builder tool. Simple drag and drop process helps you build a professional website within minutes. You can just add the content and images in your selected theme and launch your website.
Datacenter Choice: You can select any server location as per your target audience from the datacenter options available with them. They have their servers based in different countries globally and so, you can select a location as per your preference.
Malware Scan & Protection: Your website is secured from malware and viruses with the malware scan and protection tool. The scans your website daily for threats and if any is detected destroys it immediately.
Email Service: You can create unlimited email accounts. They offer support for POP3/ IMAP email accounts with Webmail so that you can access emails from any location.
Bonus Features
Reseller Add-ons
MilesWeb also allows you to sell web hosting add-ons to add more profit to your income.  Add-ons such as backups, SSL certificate, SpamExperts, dedicated hosting, VPS hosting, domain registration, WHO IS ID protection, etc. can be sold for increasing your profit margins. Because you are a reseller of MilesWeb, you can up-sell all these services to your clients without investing the upfront cost and also, these are risk-free.
Reseller Backup
Mis-happenings can occur at anytime. Therefore, it is important to take website backups as they can be useful if anything goes wrong with your website. It is not possible to rely on the traditional backup ways such as pen-dive and hard-disk. MilesWeb offers you a Website Backup and Restore service which is optional but can save you from the future mishaps.
WHMCS
Worried about how to manage billing, termination and daily operations of your web hosting? MilesWeb has partnered with the popular automated billing tool – WHMCS. This tool simplifies your web hosting business by automating your billing and daily operations. You can order this tool with their Linux reseller hosting plans. You simply need to place an order and they will do the complete installation of it for you.
Customer Reviews
Customers speak positively about your company only when you provide good service to them. This is what MilesWeb's customers speak about them. It proves that you get the best service from them.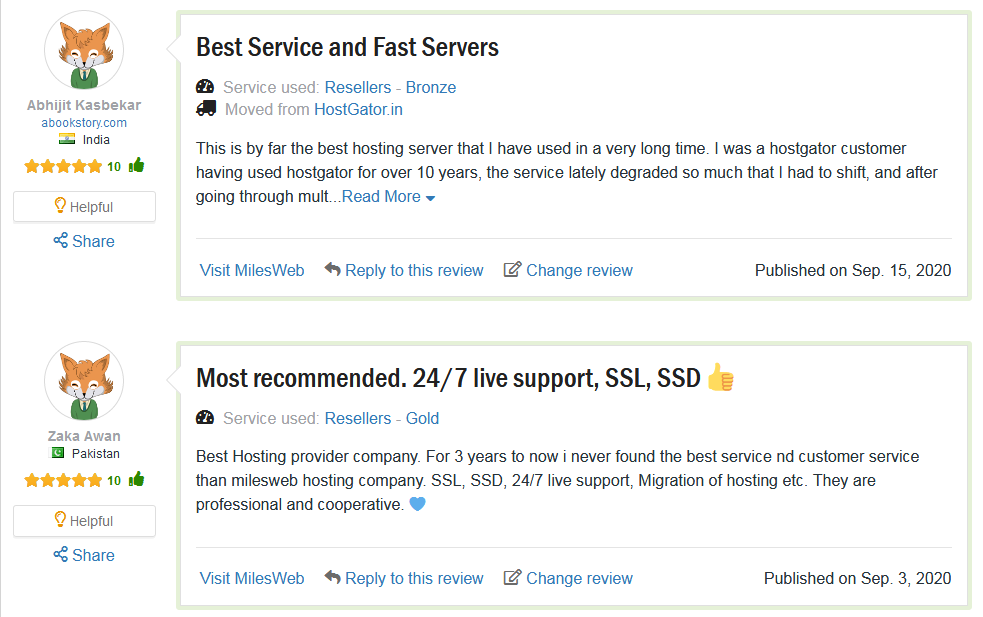 The Verdict
MilesWeb is one of the best web hosting providers of Australia and ensures that you get the superior website performance. When it comes to reseller hosting, they allow you to sell web hosting services with your brand name without any hassle. They take care of the technicalities so that you can focus on your business. What more do you need for doing a web hosting business? Signup for their reseller hosting plans and start selling web hosting services to your clients.